Label > Discography> TR-003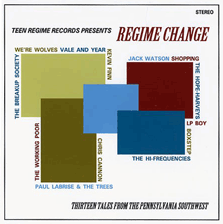 Regime Change (TR-003)
Recorded: Spring 2004–Fall 2005
Release date: December 23, 2005
Read the reviews!
Delusions of Adequacy | Pittsburgh Post-Gazette | Pittsburgh City Paper
Desolation Row Records | Pittsburgh Tribune-Review

Track listing:
Welcome to the Childhood Home
of Andy Warhol and Dan Marino - We're Wolves
Rain, Tonight - The Hope-Harveys
Battlefields - Chris Cannon
Whiskey Song - Boxstep
Go Away - The Working Poor
Dan-Nat-Dun-Uh - Shopping
Lower Expectations - The Breakup Society
New Material - Jack Watson
By the Light of Day - Paul Labrise & the Trees
Gray Machinery - Kevin Finn
Weight of the Water - lp boy
Notes: We are excited to announce the release of a compilation of Pittsburgh's best and brightest stars for 2005. Here's a sneak preview from Vale and Year - Slumber.
Buy it now with PayPal!